Erik Hall: A Remembrance
by
Miles Raymer
Most people, if they are lucky, grow up with one family. I had two. The first was my traditional, biological family. My parents were both black sheep––one estranged for religious reasons and the other for sociopolitical ones––so these relationships were complex and fraught. Growing up, I spent comparatively little time with my "real" relatives, and the time I did spend with them felt like dropping into a parallel universe with very different priorities and values from the ones my parents were trying to teach me.
The place where I truly felt at home as a boy was with my other family, my farm family. True to the hippie ethos of their era, my folks fell in with some like-minded college comrades and decided to create an intentional community based on self-reliance, environmental sustainability, and political idealism. A man named David Atkin owned a property in Cave Junction––a sleepy little town in the heart of Southern Oregon's Illinois River Valley––and generously invited his friends to share that space. They wasted no time building their new rural refuge, erecting a barn, cabin, and other supporting structures on the riverfront property. They formalized the group into a legal structure called "The Collective," which my parents formally joined in the early 1980s.
The history of The Collective is long, ongoing, and largely unknown to me. By the time my sister and I entered the scene, "The Farm," as we simply called it, seemed to have existed since the dawn of time. We never lived there but visited often. My parents were the first couple to have children, with others following close behind. One member of that first wave of farm kids––the group with which I became and remain closest––was a spritely boy named Erik Hall. Erik had curly dark hair, a tall face with round cheeks, a big smile, and a bigger heart. Over the years, that boy became this man: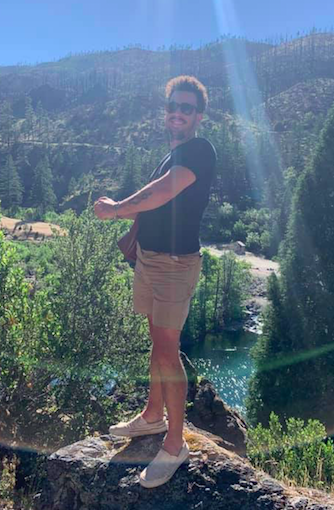 Like almost all my childhood memories, my memories of Erik are nebulous, impressionistic, and often untrustworthy. Sad to say, memories from my adulthood (insofar as such a thing can be said to exist) aren't much better. But what I can remember with distinct clarity is how Erik's presence made me feel. Like a little brother, Erik made me feel safe, respected, confident and worthy. He made me feel properly scrutinized but never unfairly judged. He made me feel loved and accepted, always.
As I got older, my life's path steered me away from The Farm more than toward it. I would still visit from time to time, but it ceased to play the critical support role that it had in boyhood. Erik was easy not to think about because I assumed he would be out there in the world somewhere, doing his thing until the next the time our paths crossed again. Which is why it was so shocking and upsetting to learn that on Monday, 2/22, in the nighttime darkness of CA Highway 97, Erik died in a car crash.
Before they are lost to the ever-flowing river of time, I'd like to share a few thoughts about Erik that deserve to be remembered.
Erik played a unique role in my life––one that I was only able to fully acknowledge and understand in the wake of his passing. I have an older sister named Michaela, and for most of my life, I have not been the kind of brother she wanted and needed.
Erik, from the first, adored Michaela the way a little brother should. He was her lively playmate, sought her counsel in troubling times, and accepted her unconditionally. He understood and loved the unpredictable, melancholy side of her that others rarely saw. He was to her what I should have been, and for that I owe him an unpayable debt. Impressively, Erik seems to have cultivated this kind of relationship with several women we grew up with, including his own biological sister. His talent for connection and appreciation of others was a gift he gave fully and without hesitation. He was a beloved member of what I would eventually come to call my Logical Family.
When it came to his sexuality, Erik displayed remarkable aplomb. The folks he grew up around thought he might be gay pretty much from the beginning, but it didn't really matter to us one way or another. He came out in his early teens, bold and unapologetic. When he spoke, the words came in a delicious flamboyant rhythm, and everyone got a kick out of his passion for goofy, gender-bending clothing. He was the first of my peers I ever saw live his truth with such unfettered courage––a pioneer in his own small way. I never thought to tell him this, but I, a totally straight guy, found Erik to be extremely sexy. I wish now that I had.
My most vivid recollection of Erik is actually a phone conversation we had, probably five or six years ago. He called me for advice. He was considering moving from Seattle to Cave Junction, so he wanted to hear about my experience living there in the spring of 2012. He sounded burned out on city life and eager for a fresh start that would bring him closer to the natural splendor of our shared childhood sanctuary. I encouraged him to make the move, and he did. I'm sure there were plenty of other trusted people who influenced this decision, but I'm proud of giving him that little nudge.
When I visited Erik in Cave Junction a year or so later, he seemed peaceful and thriving. His easygoing demeanor matched the scenery, he seemed to have no trouble making friends with the locals, and I saw a quiet confidence building in him.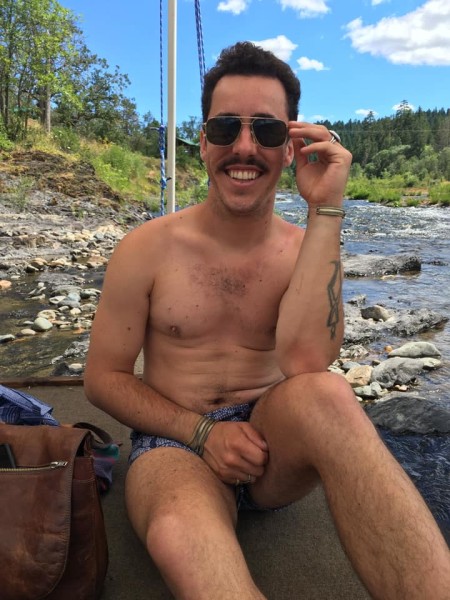 I hope Erik's time in Southern Oregon turned out the way he wanted. I occasionally sensed a veiled vein of sadness, or perhaps loneliness, under his dazzling surface, but for whatever reason he never showed it to me. If it indeed existed, I'm certain Erik's internal struggle stemmed from his fundamental decency, even if it also tortured him.
When he died, Erik was in the process of moving back home to Chico, so it's clear that he was still searching for his place in this world, for his true family and home. It's heartbreaking that we won't get to see that search continue, and moreso that he himself won't get to discover what the rest of his life had in store. I believe that what he would have found––what he would have become––would have been magnificent.
Given my status as a peripheral player in Erik's life, losing him has had a surprisingly powerful impact on me. His passing has made real one of my greatest fears: that someone I love will die without me fully expressing to them how much they mean to me, how grateful I am for their presence in my life. So I am left with that gnawing, unresolvable regret. I can't begin to imagine the measure of grief that his family and close friends must be experiencing. If you are one of these people, my heart is with you as I write these words, and I hope you glimpse some part of the Erik you knew in my remembrance.
Death is always something of a tragedy, but some deaths feel right, natural, easy to accept. Some even feel poetic. Erik's death isn't like that. Those left behind still have all the joy, all the laughter, all the love he gave, but mourn together those things he still had yet to give, to do, to be.
Goodbye, you beautiful boy.