Review: Larry McMurtry's "Lonesome Dove"
by
Miles Raymer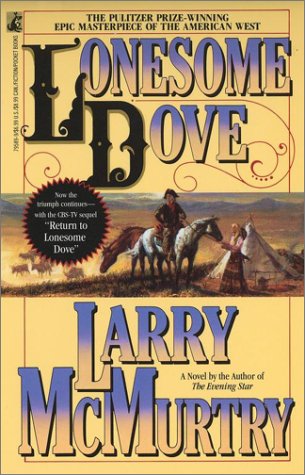 Assuming that Larry McMurtry's depiction can be trusted, the post-Civil War American frontier must have been a wild and treacherous place. In Lonesome Dove, McMurtry offers up a lively account of cowboy life that blends leather-booted realism with big-sky romanticism. This epic tale gave me lots to think about, even as it left me emotionally placid.
This being my first encounter with McMurtry's writing, I immediately appreciated his talents for plainspoken imagery and characterization. It was a pleasure to meet the members of the Hat Creek outfit, a horse-training and cattle-wrangling bunch led by two former Texas Rangers: Captain Woodrow Call and Augustus ("Gus") McCrae. Instead of living out their golden years on the heat-drenched shores of the Rio Grande, these hardy fellows decide to "round up a dern bunch of cowboys so we can head out for Montana with a dern bunch of cows and suffer for the rest of our lives" (160). This is a derned accurate summary of what follows the novel's exposition.
Although the story never quite came together for me as a coherent whole, Lonesome Dove's wandering narrative has many strengths. The first of these worth mentioning is McMurtry's gritty portrait of the frontier mentality as experienced by a diverse cast of characters. Each must confront the implacable contingency of frontier life, as described by Gus after one of the outfit's members has died: "It's hard to calculate the odds in this kind of a situation…We may not have another bad injury the whole way. On the other hand, half of us may get wiped out" (337).
McMurtry explores the frontier's psychological impact not just on the white men that form Hat Creek's core, but also on women of varying backgrounds and men of color. Not all of his characters are equally well-realized, and the race and gender politics are retrograde in all the ways one expects of a novel set in the 1870s, but it is clear that McMurtry strives in his own way for an authentic and nuanced examination of the ethical and practical problems that pervade frontier life. Physical and emotional hardships dominate, with the steady march to death punctuated by fleeting moments of intense pleasure and fuzzy scraps of meaning.
Central to Lonesome Dove is the tenuous nature of relationships between men and other men, as well as between men and women. Most of the main characters come to symbolize a critical element of human experience, such as duty, endurance, beauty, nihilism, pleasure, disillusionment, or grace. Probably my favorite aspect of the book was that, by the end, I received a clear message that the men in the story have lost their way, consumed by the romantic maw of Manifest Destiny and the promise of something truly mysterious but fundamentally tamable just over the horizon:
"This is rare country, this Montana. We're a lucky bunch. There ain't nothing better than this…That's the wild for you––it's got its dangers, which is part of the beauty. 'Course the Indians have had this land forever. To them it's precious because it's old. To us it's precious because it's new." (832)
The women, by contrast, appear to draw closer to the stark reality of things, for better and for worse. They make peace with the mundane and eschew the foolish romanticism that continually wrecks the men in their lives. Clara, arguably the novel's most heroic figure, explains to Gus: "I haven't seen you in sixteen years. I've mostly raised children and horses during those years. Three of the children died, and plenty of the horses. It took all the romance out of me" (774-5). Gus, for his part, ultimately proves sensitive to the damage men of his ilk have done and are doing to the American landscape: "Look there at Montana…It's fine and fresh, and now we've come and it'll soon be ruint" (880).
Perhaps the best way to understand Lonesome Dove is as a sprawling, multi-thousand-mile enactment of the sunk cost fallacy. Over and over, misplaced honor embedded in foolhardy endeavors wins out over pragmatic decision-making, thereby blocking the path to tranquility and contentment. Once again, Clara clarifies: "You men and your promises: they're just excuses to do what you plan to do anyway" (931-2).
Rating: 7/10