Review: Ilona Andrews's "Blood Heir"
by
Miles Raymer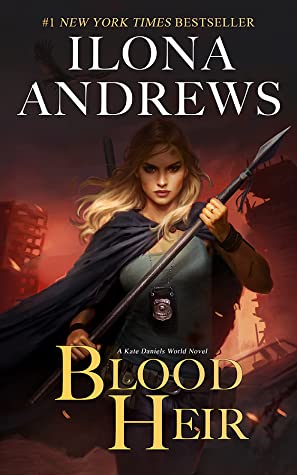 Ilona Andrews's Blood Heir is a continuation/spin-off of the marvelous Kate Daniels series. These novels take place in a fantastical version of mid-21st-century Atlanta where a metaphysical "Shift" has brought magic back into the world after centuries of dormancy. This book picks up eight years after Kate's tale comes to a close, with a new protagonist: Julie (now transformed into Aurelia Ryder) from the original series. While I don't think Blood Heir is a particularly impressive book, it's always a pleasure to return to this setting and its endearing characters. It reminded me why I'll always be excited to follow Ilona Andrews on another Shifty adventure.
Blood Heir's got everything going for it that the original Kate books did, which is both the strongest and weakest aspect of the novel. Veteran readers will know just what to expect, and will get it: laconic witticisms, over-the-top clashes with sinister magical baddies, conscientious crime-solving, visits with beloved characters from previous books, and a tantalizing serving of sexual tension between the two main characters. Every word is classic Andrews––the epitome of fun, smart, and unpretentious fantasy writing.
The downside here is something that my wife picked up on first, and that I also recognized as the book came to an end. As a narrator, there's very little to differentiate Julie from Kate. The nature of Julie's problems and the values she espouses are exactly the same, and the plot proceeds in lockstep with how each of the Kate books unfolded. Don't get me wrong: it's a great formula. But we've already got ten books in that series, plus a passel of ancillary texts. To give credit where it's due, Andrews does bust out a clever conceit that explains why Julie is suddenly so similar to Kate, both in physical appearance and magical clout. The conceit works, but it also left me wondering what new creative pathways Andrews may have ignored by making this narrative decision. I think an opportunity was missed to show this world through a truly different perspective. And, ironically, Julie from the original series seems like the perfect choice for such a project because her background and aptitudes were so markedly different from Kate's.
Ultimately, Blood Heir is more about fan service than breaking new ground. But that's just fine with me. Consider this fan happily served, until next time!
Rating: 6/10