Review: Ilona Andrews's "Magic Rises"
by
Miles Raymer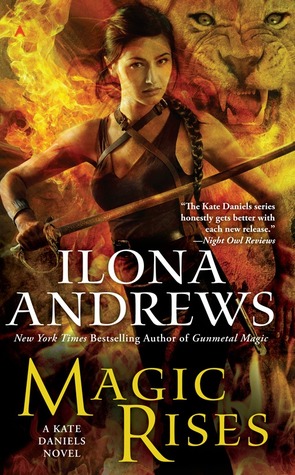 The sixth Kate Daniels book injects much-needed fresh energy into this terrific fantasy series. Instead of sticking around Atlanta as usual, Kate and her "collection of uncanny misfits" voyage across the Atlantic Ocean in search of a rare substance that can help stabilize the development of the Pack's adolescents (281). In exchange for this substance, Curran is asked to be the arbitrator of a complex familial dispute between two European shapeshifter packs. As always, that's not the end of the story, and, as always, the events that ensue bring Kate a little closer to the confrontation she's been planning for and dreading her entire life.
Kate and Curran bring most of the series's ancillary characters with them overseas, so the dynamics that have dominated since Kate became an Alpha continue to play out, with additional tensions thrown in as the Pack's representatives deal with foreign customs and magical creatures. A few new characters also make a welcome appearance, and we finally get a closer look at Hugh d'Ambray, Kate's arch enemy's most trusted servant. As I learned with Book 4, the difference between a "good" and "great" Kate Daniels book usually hinges on the villain; Hugh's character development––especially what we learn about how he regards Kate––pushes this one into the "great" category.
Andrews continues to expand the list of universal human themes that pop up in this series. Magic Rises gives readers the opportunity to analyze the unpredictable consequences of mercy, the brutality of old-world marriage practices, how patriarchy can force women to hide their intelligence, and the futility of strict rules regarding the legitimacy of "nonhumans" in a world populated by a diverse array of intelligent beings.
Kate and Curran's relationship faces significant and intriguing strains in this book, including the experience of what it feels like to see one another courted by new potential mates. Slowly but surely, they are learning the challenges of commitment through adversity:
I loved Curran, and most of the time being with him was so easy. But when it was difficult, it nearly broke me. I wondered if it was like that for him, too. Being alone was simpler, but I couldn't give him up. He made me happy. So happy that I kept looking over my shoulder, as if I had stolen something and any minute someone would demand I give it back. (278)
This passage, despite the simplistic and clichéd nature of the writing, exudes a kind of raw authenticity to which anyone who has been in love can instantly relate. Andrews's ability to capture these sentiments in their most unadorned form is striking:
Thousands of years ago, people gazed at the sea just like we did now, mesmerized by the pattern of evening light on the waves. They had their own dreams and ambitions, but at the core they must've been just like us: they loved and hated, worried about their problems and celebrated their triumphs. Long after we were gone, the sea would still remain, and other people would watch it and be bewitched. (286)
Even the luckiest of us only gets a limited number of such "oceanic" moments, and I'm grateful that some of mine have come from this wacky series. On to Book 7!
Rating: 9/10