Review: Joan Cohen's "Land of Last Chances"
by
Miles Raymer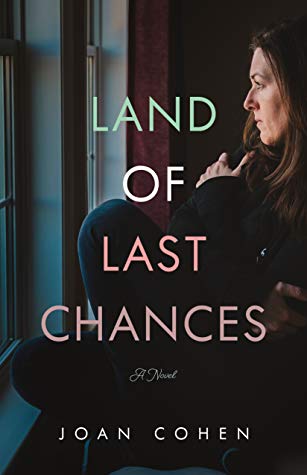 Joan Cohen's Land of Last Chances is not the kind of novel that typically interests me, but when JKS Communications offered to send me an advance reader copy in exchange for an honest review, I took them up on it. The book has some positive features, but my overall reading experience was dominated by boredom and increasing irritation.
Land of Last Chances is the story of Jeanne Bridgeton, a single woman in her late forties who works as a marketing executive for a nondescript software company called Salientific. Jeanne is the classic career-focused protagonist who's addicted to her job, over-invested in the lives of her colleagues, and has almost nothing of a social life outside of work. Aside from a touching relationship with Bricklin, her charismatic golden retriever, and a handful of other low-commitment relationships, she seems quite lonely and disconnected from the world. This makes her sympathetic at first, but my sympathy became strained and then exhausted as the novel wore on.
Jeanne's life takes a turn when she discovers that she is unexpectedly pregnant, and also that her father may have suffered from early-onset Alzheimer's disease. These events pull her out of her risk-obsessed marketing mentality and prompt her to "consult her feelings, a skill she had never cultivated" (57). In doing so, Jeanne considers whether to get an abortion, investigates the uncertain paternity of her unborn child, and discovers new information about her parents' lives that her recently-deceased mother hid from her.
Amidst this personal chaos, Jeanne also tries to be a stabilizing force within her company's factionalizing executive team, which is full of lonely, myopic and ambitious people like herself. This narrative begins as merely banal but becomes weirdly dramatic in a way that feels implausible and tonally inconsonant with the rest of the novel.
Considering how much she has going on, Jeanne's journey is surprisingly stale. Cohen is an able writer, but nothing more, and struggles to make Jeanne's experiences feel engaging and vivid. For all her internal turmoil, Jeanne never manages to realize how obviously empty and devoid of meaning her life is. Because she fails at this, she is unable to assume the task of infusing her future with the potential for genuine joy and purpose. The novel, consequently, lacks these qualities as well.
Rating: 2/10