Review: Louisa May Alcott's "Little Women"
by
Miles Raymer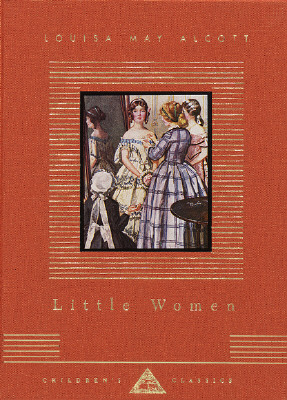 If I could trade the fictional world of Louisa May Alcott's Little Women for the real one, I'd seriously consider it. This tale of familial bonding and kind neighborliness will warm even the coldest heart. Set in New England during and after the American Civil War, the novel charts the adolescence and early adulthood of the four March sisters: Meg, Jo, Beth, and Amy.
While their father is off serving in the military, the girls are left to their own devices under the firm but compassionate guidance of Mrs. March, or Marmee. Meg, the eldest, is uncommonly pretty and refined. Jo, next in years, is hot-tempered, passionate, and deeply imaginative––an aspiring writer. Beth, second to youngest, is strong in spirit but weak in constitution, a little angel wishing only that her family "may all keep well, and be together; nothing else" (160). Amy, the youngest, is a gifted artist but petulant and desirous of fame and fortune. Alcott's literary voice exudes a youthful vivacity made even more charming by her now-century-and-a-half-old prose.
The idea that simple togetherness is enough to validate a good life is a critical theme of Little Women. Though the novel's core is the March family itself, there are several supporting characters who fill out and enrich their lives. The most prominent of these is Laurie, their well-to-do neighbor who lives with his grandfather, Mr. Laurence. Laurie is a playful and impetuous lad, but always well-meaning and therefore adored by all. Time and again, he and the March's other neighbors demonstrate the power and value of local community.
Most of the important lessons in Little Women announce themselves through Marmee's steadfast guidance of her girls. Alcott describes her as "a stout, motherly lady, with a 'can-I-help-you' look about her which was truly delightful" (17). It was delightful indeed to mine this book for "Marmee-isms":
Rich or poor, we will keep together and be happy in one another. (47)
Once upon a time there were four girls, who had enough to eat, and drink, and wear; a good many comforts and pleasures, kind friends and parents, who loved them dearly, and yet they were not contented…
These girls were anxious to be good, and made excellent resolutions, but somehow they did not keep them very well, and were constantly saying, "If we only had this," or "if we could only do that," quite forgetting how much they already had, and how many pleasant things they actually could do; so they asked an old woman what spell they could use to make them happy, and she said, "When you feel discontented, think over your blessings, and be grateful."…
Being sensible girls, they decided to try her advice, and soon were surprised to see how well-off they were. One discovered that money couldn't keep shame and sorrow out of rich people's houses; another that though she was poor, she was a great deal happier with her youth, health, and good spirits, than a certain fretful, feeble old lady, who couldn't enjoy her comforts; the third, that, disagreeable as it was to help get dinner, it was harder still to have to go begging for it; and the fourth, that even carnelian rings were not so valuable as good behavior. So they agreed to stop complaining, to enjoy the blessings already possessed, and try to deserve them, lest they should be taken away entirely, instead of increased; and I believe they were never disappointed, or sorry that they took the old woman's advice. (54-5)
You have a good many little gifts and virtues, but there is no need of parading them, for conceit spoils the finest genius. There is not much danger that a real talent or goodness will be overlooked long; even if it is, the consciousness of possessing and using it well should satisfy one, and the great charm of all power is modesty. (82)
I have been angry nearly every day of my life, Jo; but I have learned not to show it; and I still hope to learn not to feel it, though it may take me another forty years to do so. (92)
My dear girls, I am ambitious for you, but not to have you make a dash in the world,––marry rich men merely because they are rich, or have splendid houses, which are not homes, because love is wanting. Money is a needful and precious thing,––and, when well-used, a noble thing,––but I never want you to think it is the first or only prize to strive for. I'd rather see you poor men's wives, if you were happy, beloved, contented, than queens on thrones, without self-respect and peace. (112)
Have regular hours for work and play; make each day both useful and pleasant, and prove that you understand the worth of time by employing it well. Then youth will be delightful, old age will bring few regrets, and life become a beautiful success, in spite of poverty. (133)
It is an excellent plan to have some place where we can go to be quiet, when things vex or grieve us. There are a good many hard times in this life of ours, but we can always bear them if we ask help in the right way. (220)
Mrs. March knew that experience was an excellent teacher, and, when it was possible, she left her children to learn alone the lessons which she would gladly have made easier, if they had not objected to taking advice as much as they did salts and senna. (284)
A kiss for a blow is always best, though it's not very easy to give it, sometimes. (330)
That is the secret of our home happiness; [your father] does not let business wean him from the little cares and duties that affect us all, and I try not to let domestic worries destroy my interest in his pursuits. Each do our part alone in many things, but at home we work together, always. (423)
Mothers have need of sharp eyes and discrete tongues. (469)
Mixed in with all the folksy wisdom, you will notice a preoccupation with matters of finance and poverty, which are frequently addressed throughout Little Women. This aspect intrigued but also grated me, mostly because of my personal views about what constitutes actual "poverty". Though the March girls often complain about their supposed impoverishment, their lives don't contain much that a modern audience will recognize as true poverty. To us, the Marches are middle/working class––not wealthy but most definitely not poor. They have a fine house, enough food and clothing, and even a servant named Hannah who helps around the house and cooks most of the meals. Contemporary readers should approach this book knowing that it doesn't truly understand or authentically explore the lives and challenges of poor Americans in Alcott's time.
Another problem I had with Little Women was that I didn't enjoy reading it very much. It's one of those books that I'm glad to have read, but that I didn't really look forward to opening. Aside from the many lovely quotes I pulled along the way, I found Alcott's dialogue especially tiresome and sometimes hard to follow. Overall, the writing is good but not exceptional. Still, it's easy to see why the book is considered a classic, and anyone interested in being familiar with the titans of American literature won't want to skip it.
Little Women is also a book that gets better as it goes. When faced with hardships, the March family proceeds imperfectly but always with enough solidarity to endure and thrive. As the "little women" grow and mature, Alcott crafts excellent character development through their respective experiences of love, death, disappointment and success. Here are some particularly stirring passages:
Her heart received the teaching that it needed; lessons in patience were so sweetly taught her, that she could not fail to learn them; charity for all, the lovely spirit that can forgive and truly forget unkindness, the loyalty to duty that makes the hardest easy, and the sincere faith that fears nothing, but trusts undoubtingly. (448)
Women work a good many miracles, and I have a persuasion that they may perform even that of raising the standard of manhood. (455)
Jo wasn't a heroine; she was only a struggling human girl, like hundreds of others, and she just acted out her nature, being sad, cross, listless or energetic, as the mood suggested. It's highly virtuous to say we'll be good, but we can't do it all at once, and it takes a long pull, a strong pull, and a pull all together, before some of us even get our feet set in the right way. Jo had got so far, she was learning to do her duty, and to feel unhappy if she did not; but to do it cheerfully––ah, that was another thing!…What could be harder for a restless, ambitious girl, than to give up her own hopes, plans and desires, and cheerfully live for others? (467)
Don't laugh at the spinsters, dear girls, for often very tender, tragical romances are hidden away in the hearts that beat so quietly under the sober gowns, and many silent sacrifices of youth, health, ambition, love itself, make the faded faces beautiful in God's sight. Even the sad, sour sisters should be kindly dealt with, because they have missed the sweetest part of life if for no other reason; and, looking at them with compassion, not contempt, girls in their bloom should remember that they too may miss the blossom time––that rosy cheeks don't last forever, that silver threads will come in the bonnie brown hair, and, that by and by, kindness and respect will be as sweet as love and admiration now. (473)
Little they cared what anybody thought, for they were enjoying the happy hour that seldom comes but once in any life––the magic moment which bestows youth on the old, beauty on the plain, wealth on the poor, and gives human hearts a foretaste of heaven. (510)
Little Women is a tribute to American thoughtfulness and decency––qualities we should be diligently trying to sustain and reinvent.
Rating: 7/10