Review: Toni Morrison's "Beloved"
by
Miles Raymer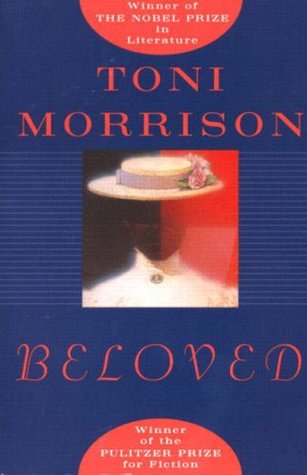 I have very little to say about Toni Morrison's Beloved. It is an absolute masterpiece. The writing, the characters, the story––they're all superb and blend together perfectly. The book is bursting with poignant insights about the nature of freedom, suffering, racism, family, memory, trauma, healing, humanism, and much more. It's also terrifying and punishing, so be prepared to battle to keep your wits about you if you decide to take the plunge. It's worth it.
Instead of pestering you with more of my own words, I'll let Morrison speak for herself:
Hey! Listen up. Let me tell you something. A man ain't a goddamn ax. Chopping, hacking, busting every goddamn minute of the day. Things get to him. Things he can't chop down because they're inside. (69)
She wished for Baby Suggs' fingers molding her nape, reshaping it, saying, "Lay em down, Sethe. Sword and shield. Down. Down. Both of em down. Down by the riverside. Sword and shield. Don't study war no more. Lay all that mess down. Sword and shield." And under the pressing fingers and the quiet instructive voice, she would. Her heavy knives of defense against misery, regret, gall and hurt, she placed one by one on a bank where clear water rushed on below. (86)
She did not tell them to clean up their lives or go and sin no more. She did not tell them they were the blessed of the earth, its inheriting meek or its glorybound pure.
She told them that the only grace they could have was the grace they could imagine. That if they could not see it, they would not have it.
"Here," she said, "in this here place, we flesh; flesh that weeps, laughs; flesh that dances on bare feet in grass. Love it. Love it hard. Yonder they do not love your flesh. They despise it. They don't love your eyes; they'd just a soon pick em out. No more do they love the skin on your back. Yonder they flay it. And O my people they do not love your hands. Those they only use, tie, bind, chop off and leave empty. Love your hands! Love them. Raise them up and kiss them. Touch others with them, pat them together, stroke them on your face 'cause they don't love that either. You got to love it, you! And no, they ain't in love with your mouth. Yonder, out there, they will see it broken and break it again. What you say out of it they will not heed. What you scream from it they will snatch away and give you leavins instead. No, they don't love your mouth. You got to love it. This is flesh I'm talking about here. Flesh that needs to be loved. Feet that need to rest and to dance; backs that need support; shoulders that need arms, strong arms I'm telling you. And O my people, out yonder, hear me, they do not love your neck unnoosed and straight. So love your neck; put a hand on it, grace it, stroke it and hold it up. And all your inside parts that they'd just as soon slop for hogs, you got to love them. The dark, dark liver––love it, love it, and the beat and beating heart, love that too. More than eyes or feet. More than lungs that have yet to draw free air. More than your life-holding womb and your life-giving private parts, hear me now, love your heart. For this is the prize." (88-9, emphasis hers)
To get to a place where you could love anything you chose––not need permission for desire––well now, that was freedom. (162, emphasis hers)
The undecipherable language clamoring around the house was the mumbling of the black and angry dead. Very few had died in bed, like Baby Suggs, and none that he knew of, including Baby, had lived a livable life. Even the educated colored: the long-school people, the doctors, the teachers, the paper-writers and businessmen had a hard row to hoe. In addition to having to use their heads to get ahead, they had the weight of the whole race sitting there. You needed two heads for that. Whitepeople believed that whatever the manners, under every dark skin was a jungle. Swift unnavigable waters, swinging screaming baboons, sleeping snakes, red gums ready for their sweet white blood. In a way, he thought, they were right. The more coloredpeople spent their strength trying to convince them how gentle they were, how clever and loving, how human, the more they used themselves up to persuade whites of something Negroes believed could not be questioned, the deeper and more tangled the jungle grew inside. But it wasn't the jungle blacks brought with them to this place from the other (livable) place. It was the jungle whitefolks planted in them. And it grew. It spread. In, through and after life, it spread, until it invaded the whites who had made it. Touched them every one. Changed and altered them. Made them bloody, silly, worse than even they wanted to be, so scared were they of the jungle they had made. The screaming baboon lived under their own white skin; the red gums were their own. (198-9)
Anybody white could take your whole self for anything that came to mind. Not just work, kill, or maim you, but dirty you. Dirty you so bad you forgot who you were and couldn't think it up. And though she and others lived through and got over it, she could never let it happen to her own. The best thing she was, was her children. Whites might dirty her all right, but not her best thing, her beautiful, magical best thing––the part of her that was clean. (251, emphasis hers)
Human life is holy, all of it. (260)
Rating: 10/10