Review: Lucas Spiegel's "The Weight of Empathy"
by
Miles Raymer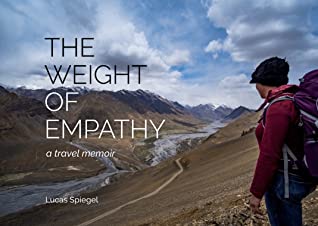 I first met Lucas Spiegel about 15 years ago while playing club ultimate frisbee at the University of Oregon. He was a beloved captain of the B-team for several years––a quiet, kind, and always-respectful leader whose simple love for the game inspired younger players like me who were just starting out. I don't remember Lucas making any efforts to conceal or downplay his veganism, but he also wasn't aggressive or pushy about it. It was just a quality that seemed to go naturally with his calm demeanor and obvious appreciation for all living things.
Fast forward to 2018, and Lucas got in touch with me to see if I'd be interested in reading and giving feedback on some excerpts from a book he was writing. I gladly accepted, having no idea what to expect. When early drafts of chapters from The Weight of Empathy landed in my inbox, I was immediately impressed with Lucas's ability to convey his life journey and values through reflective writing, emotional sensitivity, and stunning photography. Now that the book has finally been published, I am delighted to say that it's even better than I imagined!
The Weight of Empathy charts Lucas's two-year trek across several continents. With the guiding goals of learning how veganism is practiced globally and helping to alleviate suffering along the way, Lucas spent most of his time working at animal sanctuaries and animal-friendly farms. The stories and images he collected will educate readers about the ethical arguments for veganism and provide intimate windows into the lives of animals around the world. For a person as compassionate and committed as Lucas, the weight of empathy is heavy indeed. It's a weight he carries with remarkable grace.
Rating: 10/10